Obedience Quotes That Inspire Discipline, Compliance, and Submission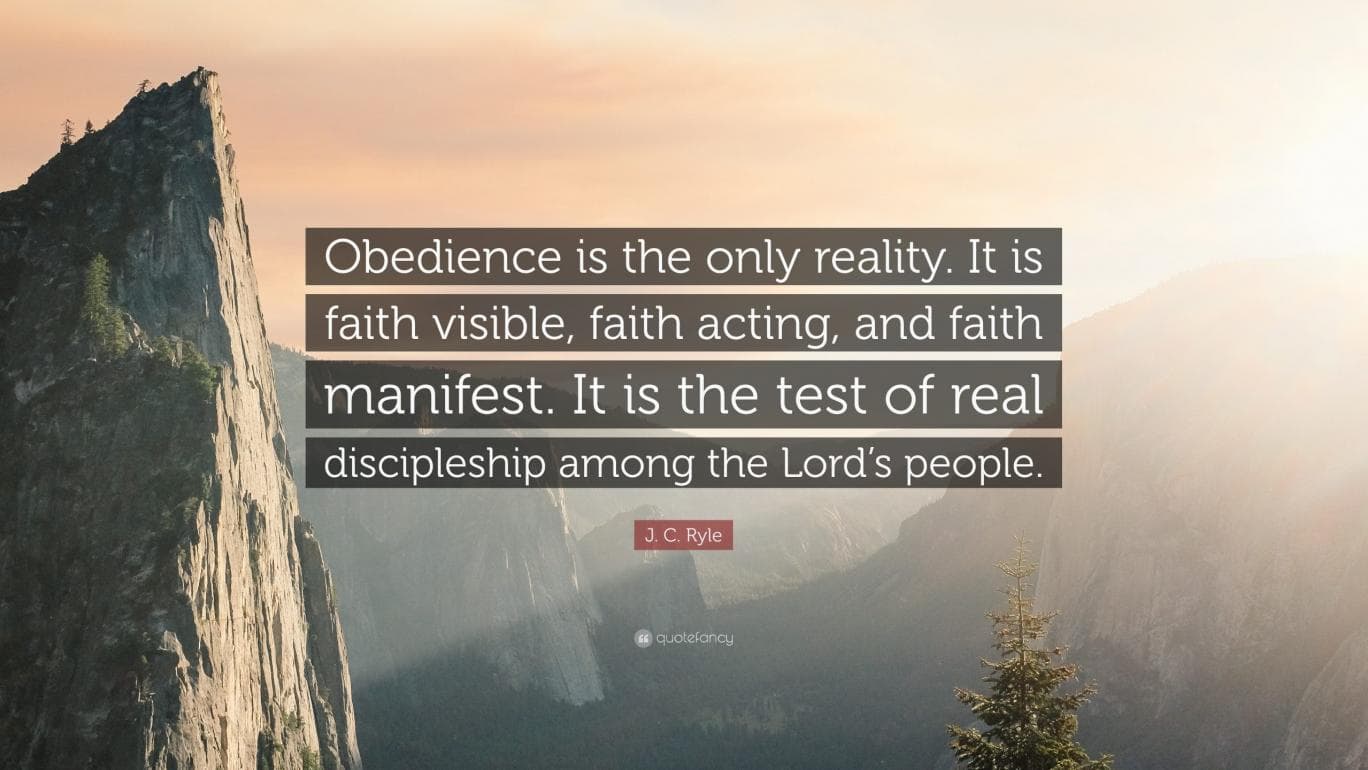 The ship of obedience sails smoothly on the sea of success.
Freedom is not the absence of commitments, but the ability to choose and commit to what is best for you.
True obedience is a matter of love, which makes it voluntary, not compelled.
The first step of wisdom is to obey, and the second is to understand.
A great life is born out of obedience to great principles.
Obedience is the doorway to the cathedral of wisdom.
Out of obedience, springs the beauty of reverence.
Obedience is the flower of humility.
The highest form of freedom carries with it the greatest measure of discipline.
Obedience is an act of faith; disobedience is the result of unbelief.
Being obedient to your purpose isn't a sacrifice, it's a fulfillment.
Obedience is not suppression of personal will, but rather a delightful dance with destiny.
Umbrellas may cover you from rain, but obedience will cover you from storms of life.
Obedience is better than sacrifice because one is an act of understanding and the other simply an act.
The strength of a man's virtue should not be measured by his special efforts, but by his ordinary doing.
Obedience and humility are twins, one can't exist without the other.
The key to the palace of success is obedience.
Obedience is the jewel of virtues, for in it lies the gem of wisdom.
The secret to success is obedience to what matters.
Obedience is a choice between our own limited knowledge and power and God's unlimited wisdom and omnipotence.
Obedience is the mother of success and is wedded to safety. – Aeschylus
Obedience is an act of faith; disobedience is the result of unbelief. – Edwin Louis Cole
The reward of one duty is the power to fulfill another. – George Eliot
Freedom is born of self-discipline. No individual, no nation, can achieve or maintain liberty without self-control. – Dwight D. Eisenhower
Obedience is less painful than regret. – Christine Caine
Do not think that love, in order to be genuine, has to be extraordinary. What we need is to love without getting tired. Be faithful in small things because it is in them that your strength lies. – Mother Teresa
Delayed obedience is disobedience. – Samuel J. H. Gobat
True obedience is true freedom. – Henry Ward Beecher
He who cannot obey, cannot command. – Benjamin Franklin
Obedience to the call of Christ nearly always costs everything to two people – the one who is called, and the one who loves that one. – Oswald Chambers
Where there is no obedience, there is no virtue; where there is no virtue, there is no good; where there is no good, there is no love; where there is no love, there is no God; where there is no God, there is no Heaven. – St. John Bosco
True freedom is always found in obedience to God. – R. C. Sproul
Obedience opens the door to the constant companionship of the Holy Spirit. – Robert D. Hales
What we call our despair is often only the painful eagerness of unfed hope. – George Eliot
Attention is the first and final act of love, and the ultimate act of rebellion against an indifferent universe. – Gavin de Becker
Obedience means marching right on whether we feel like it or not, and we learn to march by marching. – Oswald Chambers
The doorstep to the temple of wisdom is a knowledge of our own ignorance. – Benjamin Franklin
Obedience is better than sacrifice, and to heed is better than the fat of rams. – 1 Samuel 15:22
If you love me, keep my commands. – John 14:15
Obedience is the mother of success and is wedded to safety. – Aeschylus
Obedience, pure and simple, opens up a pathway to the revelations of the spirit. – Boyd K. Packer
Obedience is an act of faith; disobedience is the result of unbelief. – Edwin Louis Cole
That action is best which procures the greatest happiness for the greatest numbers. – Francis Hutcheson
Obedience is the primary object of all sound education. – Elizabeth Missing Sewell
The ship that will not obey the helm will have to obey the rocks. – English Proverb
Obedience is less painful than regret. – Christine Caine
Blind obedience is itself a form of tyranny. – Theodore Dalrymple
Obedience is better than sacrifice. – Unknown
Obedience opens the door to the constant companionship of the Holy Ghost. – L. Tom Perry
Obedience is the fruit of faith. – Christina Rossetti
A dream doesn't come alive through magic; it requires sweat, determination, and obedience. – Unknown
The speed of obedience dictates the rate of success. – Israelmore Ayivor
One act of obedience is better than one hundred sermons.- Dietrich Bonhoeffer
True freedom lies within the constructs of obedience. – John Gordon
Loyalty through obedience, victory through unity. – Victoria Aveyard
Let the consequences of your obedience be left up to God. – Oswald Chambers
Obedience doesn't mean absence of fear. It means pressing on even when fear is present. – Christine Caine
Rebellion against tyrants is obedience to God. – Benjamin Franklin
Obedience to lawful authority is the foundation of manly character. – Robert E. Lee