Life Changing Quotes from Jay Shetty: Inspiration for Personal Growth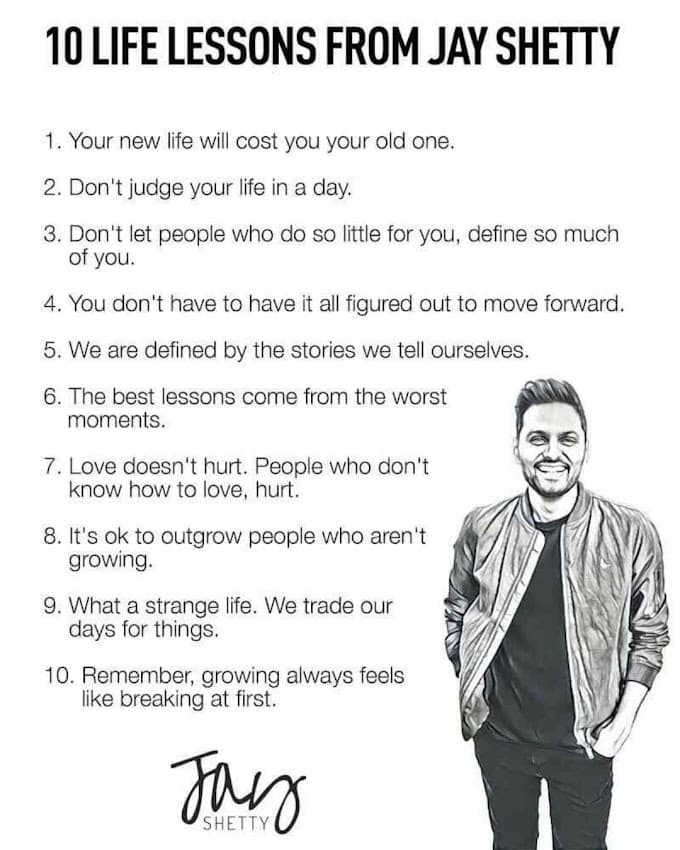 Love doesn't hurt. What you want from it does.
The most powerful prison is one when you don't even know that you're locked up.
To be the best you must be able to handle the worst.
Your new life will cost you your old one. Remember, it's difficult to progress and hold onto comfort at the same time.
Don?t let the world change your smile, use your smile to change the world.
Just because you're struggling, doesn't mean you're failing.
Your worst enemy cannot harm you as much as your own unguarded thoughts.
Success comes from gaining, happiness comes from giving.
Often, people who can, don't because they're afraid of what people that can't, will say.
Stop trying to find the right person and instead strive to be the right person.
Remember, success is what we get but happiness is what we give.
You don't know what you need in your life until you figure out who you are in your life.
We always make time for what we feel is important in our lives.
You cannot ask someone to be on your level. You must reach theirs, then uplift them.
Everyone has a different clock. Wait for your time.
When we judge others, we're only judging ourselves.
Use your voice for kindness, your ears for compassion, your hands for charity, your mind for truth, and your heart for love.
You're not searching for the meaning of life; you're searching for the feeling of being alive.
Life and time are the world's two teachers. Life teaches us to make good use of time, while time teaches us the value of life.
Genius is when you're the only person that doesn't think you're a genius.
If you don't sacrifice for what you want, what you want becomes the sacrifice.
You cannot heal what you do not first acknowledge.
Your identity is your most valuable possession. Protect it.
The world as we have created it is a process of our thinking. It cannot be changed without changing our thinking.
When no one else celebrates you, learn to celebrate yourself. When no one else compliments you, then compliment yourself. It's not up to other people to keep you encouraged. It's up to you.
Failures are only failures when we don't learn from them, because when we learn from them they become lessons.
We are not a product of our circumstances. We are a product of our decisions.
The only thing standing between you and your goal is the story you keep telling yourself as to why you can't achieve it.
The interesting thing about your personal growth is that it has no end.
We don?t know what?s going to happen and that's fine. We learn and grow as we go.
You can?t be that kid standing at the top of the waterslide, overthinking it. You have to go down the chute.
When you find your path, you must not be afraid. You need to have sufficient courage to make mistakes.
The only thing that makes life unfair is the delusion that it should be fair.
There are no wrong turns, only unexpected paths.
When you speak, speak from your soul. Use words less and mean more.
Let go of negativity, focus on the good.
Your worst enemy cannot harm you as much as your own unguarded thoughts.
Don't let someone's highlight reel make you feel bad about your behind-the-scenes footage. – Jay Shetty
Stop trying to fit in when you were born to stand out. – Jay Shetty
Your worth is not determined by someone else's inability to see it. – Jay Shetty
What you want exists. Don't settle until you get it. – Jay Shetty
Your life is a reflection of what you think. Change your thinking, change your life. – Jay Shetty
You're not a product of your circumstance. You're a product of your decisions. – Jay Shetty
Success comes from gaining what we don't possess, but fulfilling ones make a success out of what we have. – Jay Shetty
Your passion is for you. Your purpose is for others. – Jay Shetty
One of the greatest regrets in life is being what others would want you to be, rather than being yourself. – Jay Shetty
We may not always be able to control what life puts on our path, but we can always control who we are. – Jay Shetty
Love didn't hurt you. Someone who didn't know how to love you hurt you, and you confused the two. – Jay Shetty
Real friendship is when your friend comes over to your house and then you both just take a nap. – Jay Shetty
I'm not what I think I am, I'm not what you think I am, I am what I think you think I am. – Jay Shetty
You're still learning, growing, evolving. So be patient with yourself. – Jay Shetty
We fear rejection, want attention, crave affection, and dream of perfection. – Jay Shetty
Failures open the doors to self-discovery, self-growth and self-awareness. – Jay Shetty
Don't be afraid of new beginnings, from new people, new energy, new surroundings, and new challenges. Embrace new chances at happiness. – Jay Shetty
Every next level of your life will demand a different version of you. – Jay Shetty
The secret to happiness is to do what you love. The secret to success is to love what you do. – Jay Shetty
Life and time are the world's best teachers. Life teaches us to make good use of time and time teaches us the value of life. – Jay Shetty