Inspirational Religious Quotes to Reflect on This Thanksgiving Day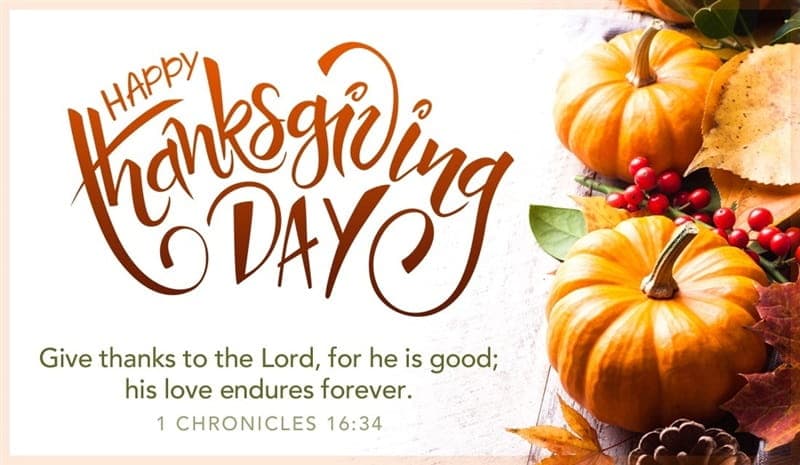 Give thanks to the Lord, for He is good. His love endures forever. – Psalm 107:1
In everything give thanks; for this is the will of God in Christ Jesus for you. – Thessalonians 5:18
Be thankful for what you have; you'll end up having more. – Oprah Winfrey
Thanksgiving is a time of togetherness and gratitude. – Nigel Hamilton
Bear with each other and forgive one another if any of you has a grievance against someone. Forgive as the Lord forgave you. – Colossians 3:13
Pray without ceasing. In everything give thanks for this is the will of God, in Christ Jesus for you. – Thessalonians 5:17-18
The thankful heart opens our eyes to a multitude of blessings that continually surround us. – James E. Faust
Make a joyful shout to the Lord, all you lands. Serve the Lord with gladness; Come before His presence with singing. – Psalms 100:1-2
Thanksgiving Day is a good day to recommit our energies to giving thanks and just giving. – Amy Grant
Oh give thanks to the Lord, for he is good, for his steadfast love endures forever! – Psalm 107:1
Thank God every morning when you get up, that you have something to do that day which must be done, whether you like it or not. – James Russell Lowell
Every good gift and every perfect gift is from above, coming down from the Father of lights with whom there is no variation or shadow due to change. – James 1:17
Be thankful for each new challenge, for it will build your strength and character. Happy Thanksgiving Day!
Give thanks to the Lord, for His love endures forever. Happy Thanksgiving Day!
When prayers meet with Thanksgiving, miracles blossom. May you experience that this Thanksgiving Day!
As we express our gratitude, we must never forget that the highest appreciation is not to utter words, but to live by them. A Blessed Thanksgiving Day to all!
No one has ever become poor by giving. Let us give thanks and share our blessings this Thanksgiving Day!
God is glorified, not through our lavish praises, but through our heartfelt thanksgiving. May this day bring glory to His name.
Enter His gates with Thanksgiving in your hearts, for He is good, His love is everlasting. Blessings to you this Thanksgiving Day!
Lord, teach us to be always thankful for all You have provided, even the smallest things. Happy Thanksgiving to all.
Blessed are those who can give thanks for the smallest things and count their blessings. May you have a Blessed Thanksgiving Day!?
In the middle of all life?s hustle, may this Thanksgiving Day remind us of God?s amazing love and providence. Blessed Thanksgiving, everyone!
The roots of all goodness lie in the soil of appreciation for goodness. Abundant Thanksgiving!
For what we proclaim is not ourselves, but Jesus Christ as Lord, with ourselves as your servants for Jesus? sake. Let His love shine upon us this Thanksgiving Day!
Thanksgiving is a time to show our appreciation and gratitude to the one who deserves it all. Happy Thanksgiving, may God always shine his blessings upon you.
Let us be a living testament of God?s love and goodness through a thankful and forgiving heart. Wishing you all a Happy and Blessed Thanksgiving Day!
Let us come before Him with Thanksgiving, as we praise the Almighty, the creator of heaven and earth. Happy Thanksgiving Day!
Enter his gates with thanksgiving, and his courts with praise! Give thanks to him; bless his name! – Pslam 100:
Thanks be to God for His indescribable gift. – Corinthians 9:
Let the word of Christ dwell in you richly, teaching and admonishing one another in all wisdom, singing psalms and hymns and spiritual songs, with thankfulness in your hearts to God. – Colossians 3:
For everything God created is good, and nothing is to be rejected if it is received with thanksgiving. – Timothy 4:
Give thanks to the Lord, for he is good; his love endures forever. – Psalm 107:
O Give thanks unto the Lord; for he is good; for his mercy endureth forever. – Chronicles 16:
Blessing and glory and wisdom and thanksgiving and honor and power and might be to our God forever and ever! Amen. – Revelation 7:
Jesus broke the bread, gave thanks, and said 'This is my body, given for you. Do this in remembrance of me.' – Luke 22:
But thanks be to God, who always leads us in triumph in Christ, and manifests through us the sweet aroma of the knowledge of Him in every place. – Corinthians 2:
We give You thanks, O Lord God Almighty, Who are and who were, because You have taken your great power and have begun to reign.? – Revelation 11: