Creative Sayings for Dog Tags: Giving Identity to Your Furry Friends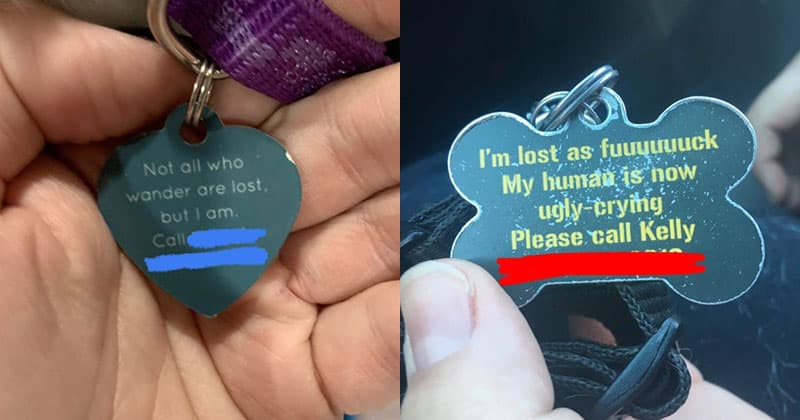 Fur-real love forever
Tails never fail
Barking beauty queen
Heart on my leash
Pawsome since birth
Treats for tweets
Paw-llywood star
Canine undercover
4 paws, 1 heart
Bark side of the moon
Dogzilla at large
Born to woof
Can't bark with us
Mutt shots only
Keep calm & sniff on
Hair of the dog
Chase dreams, not cars
Fetch happens
Irresist-a-bull charm
Pawsitively fabulous
Squirrel chaser, heart racer
Licensed to wag
Hugging your leg, brb
Live, love, bark
The rough life
I'm kind of a big deal
Furry & fabulous
Dognitaries only
Sniffer extraordinaire
For the love of fetch.
Fur-ever in my heart
Pawsitive vibes only
Dogs before dudes
Life's ruff without me
Chase dreams, not tails
Fetching hearts since (year)
Rescued is my favourite breed
Catch me if you can
Will work for treats
Bad to the bone
I'm the reason we can't have nice things
Styled by the streets, loved by the elite
Pawsitively adorable
Representing the rough crowd
Napping champion
Leaving paw prints on hearts
I'd rather be at the dog park
Rescue ? Rinse ? Repeat
Too cute to care
Squirrel chaser extraordinaire
Leader of the pack
Straight outta obedience school
Living life off the leash
Barking up the right tree
Always ready for a belly rub
If you can read this, I will lick you
Born to bark, forced to sit
I'm feeling pawsome
Sniffing butts and taking names
Always kiss your dog goodnight.
Every Snack You Make, Every Meal You Bake, I'll Be Watching You
I'm the Reason We Can't Have Nice Things
Not All Angels Have Wings, Some Have Tails
Scratch a Dog and You'll Find a Permanent Job
Love is a Four-Legged Word
If I Can't Bring My Dog, I'm Not Going
Dogs Are My Favorite People
No Home Is Complete Without Furry Paw Prints
The Road to My Heart is Paved With Pawprints
My Dog Isn't Spoiled, I'm Just Well Trained
The More People I Meet, The More I Love My Dog
Life's Short, Play With Your Dog
You Can't Buy Love, But You Can Rescue It
Barking Up The Right Tree
Don't Stop Fetchin'
Pawsitively Barking Mad
In Dog We Trust
Eat. Sleep. Bark. Repeat.
You Had Me at Woof
Born to Bark, Forced to Work