Cheers to Fun: Drinking Sayings for Cups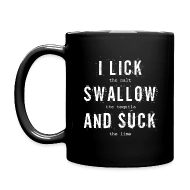 Sip Happens.
Espresso Yourself.
Life is Brewtiful.
Decaf? No Thanks.
Drink Coffee, Do Good.
Stay Grounded.
Brew-tiful Mornings Start with Coffee.
Sip Back and Relax.
Java Nice Day!
Coffee – Because Adulting is Hard.
First I Drink the Coffee, then I Do the Things.
No Talkie Before Coffee.
Life Happens, Coffee Helps.
Liquid Wisdom.
Procaffeinating: The Tendency to Not Start Anything until You've Had a Cup of Coffee.
Either You Love Coffee, or You're Wrong.
In Coffee We Trust.
Drink Coffee, Be Awesome.
More Espresso, Less Depresso.
Hello Brew-tiful.
Don't Worry, Be Frappy.
Coffeeology: Sip, Savor, Enjoy, Repeat.
Caffeine and Kindness.
Conquer the Day with a Cup of Coffee.
But First, Coffee.
Pakistanis? More like Pourskanis.
Sip Happens
Liquid Laughter
Life is Brew-tiful
Espresso Yourself
Pour Decisions
Sip, Sip Hooray
Hakuna Ma'Vodka
Drink Responsibly (Don't Spill It)
Champagne Dreams
Brewed to Perfection
Surviving On Coffee And Courage
Drink Wisely and Deep; The Secret of Life is in The Sip
Caffeine And Kindness
Decaf? No Thanks!
My Blood Type is Coffee
Too Much Monday, Not Enough Coffee
Stay Grounded (Coffee Beans)
Spillin' The Tea
Life Happens, Coffee Helps
Stressed, Blessed and Coffee Obsessed
Make Tonight Pour Ever
Just Brew It
Shot Happens
Blood, Sweat and Beers
I Make Pour Decisions
Tea is My Therapy
Wine Not?
Caffeine Queen.
Why limit happy to an hour?
Let the good times be gin.
Sip happens.
It's what's on the inside that counts.
Decaf? No thanks!
Coffee because adulting is hard.
Love at first sip.
Hydrate or diedrate.
I love my therapist, and by therapist, I mean my coffee.
Sip me baby one more time.
Life happens, coffee helps.
Drink coffee, do good.
Espresso yourself.
Hot cup of sunshine.
Caution: contents may lead to happiness.
It's brew-tiful.
Shhh.. there's wine in here.
Liquid laugh
Brewed for thought.
You're the gin to my tonic.
Keep calm and drink on.
Life is what happens between coffee and wine.
Currently fuelled by caffeine.
Avoid water, drink beer.
All you need is love, and more coffee.
May your coffee kick in before reality does.
Wake up and smell the coffee.