Best Christmas Quotes from The Office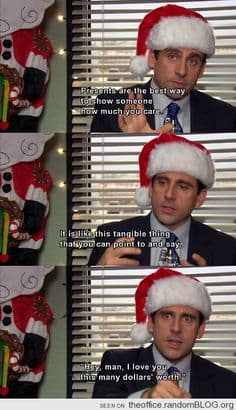 In the end, the greatest snowball isn't a snowball at all. It's fear. Merry Christmas! – Dwight Schrute
I got you a bear. A giant, feral, mythic, North American bear. That's right. I shoved him into a box that I bought for a mini refrigerator. – Jim Halpert
It's a bold move to Photoshop yourself into the nativity scene, but we wouldn't expect anything less. – Pam Beesly
I never thought I'd say this, but I think I ate too much bone marrow. – Dwight Schrute
You need to underline the word 'secret' in 'secret Santa', ok, cause I have no clue who this gift is from. – Andy Bernard
Times change. People grow. Snowmen melt. But remember, every Christmas should still be 'Dwight Christmas'. – Dwight Schrute
It's Christmas and Michael wants everything to be perfect. You could say he's turning into quite the Tree-Joyed mission! – Jim Halpert
Christmas is the time when everyone wants to be with their families… I chose to be with my second family. Office family. – Michael Scott
I would just like to say that the Christmas party is looking like it's going to be bigger than the first Christmas. Well, not the birth of Jesus Christ, but still. – Michael Scott
Belsnickel isn't just a character Dwight made up? Huh. You learn something new every Christmas. – Erin Hannon
The thing about Christmas is that it almost doesn't matter what mood you're in, what kind of year you've had – it's a fresh start.
In an office, Christmas comes around every year just like a deadline.
I'm dreaming of a white-collar Christmas.
Just like Santa's workshop, except it smells like coffee and not everyone looks jolly.
The office Christmas party: where good cheer and awkward conversations collide.
Spreading Christmas cheer faster than office gossip.
Jingle all the way to the water cooler.
May your keyboard be merry and your screen bright.
The copy machine is decked with boughs of holly.?
It?s beginning to look a lot like Christmas, everywhere you code.
Office Christmas party: where 'silent night' has a whole new meaning.
Working on my holiday spirit. Five minutes at a time.
Deck the halls with stress and caffeine, Fa-la-la-la-la, la-la-la-la.
Rudolph was the original team player. He showed up and shone when it mattered most.
Meet me under the mistletoe in the breakroom.
Another 365 days of targets and the only bells I?ll be jingling are the alarm bells.
May your spreadsheets be merry and scroll.
Santa?s checking his list, I?m checking my emails.
May your coffee be strong and your Monday be short this Christmas week.
What if we could wrap our Christmas spirit in bubble wrap and open a little every day?
You could give me a million Stanley Nickels if you knew what the ratio of Stanley Nickels to Schrute Bucks is. ? Jim Halpert, The Office
I never thought it was such a bad little tree. It's not bad at all, really. Maybe it just needs a little love. ? Michael Scott, The Office
Belsnickel is nigh, do you fear? ? Dwight Schrute, the Office
Christmas is the time to tell people how you feel ? Michael Scott, the Office
I miss the days when there was only one party I didn?t want to go to… ? Stanley Hudson, The Office
In the end, the greatest snowball isn't a snowball at all, it's fear. ? Dwight Schrute, The Office
I have been trying to get on jury duty every year since I was 18 years old. ? Creed Bratton, The Office
The only problem is whenever I try to make a taco, I get too excited and crush it. ? Kevin Malone, The Office
Presents are the best way to show someone how much you care. It is like this tangible thing that you can point to and say 'Hey man, I love you this many dollars-worth. ? Michael Scott, The Office
Dear Santa, this year please give me a big fat bank account and a slim body. Please don?t mix those two up like you did last year. Thanks – Kevin Malone, The Office.
Christmas is awesome. First of all, you get to spend time with people you love. Secondly, you can get drunk and no one can say anything. – Michael Scott, The Office.
I didn't get much sleep last night. I kept dreaming about if Santa was a vampire. – Toby Flenderson, The Office.
Secret Santa, when you care enough to send the very least – Phyllis Vance, The Office.