Beach-Inspired Sayings for Your Favorite Cups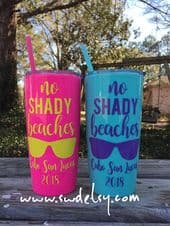 Life is better at the beach
Eat. Beach. Sleep. Repeat
Beach bum everyday
Keep Calm and Beach On
Sandy toes, sunkissed nose
Seas the day, and the coffee
Ocean air, salty hair
This coffee tastes like a beach vacation
Stressed out? Head to the beach
Just another cup from paradise
Mermaid fuel inside
Help me shore up my energy
Beach please, more coffee
Take me to the sea, and the coffee
Sun, sea, coffee and me
Salty but sweet
Coffee: because adulting is hard
Wave after wave, sip after sip
Chasing the sun, one cup at a time
My heart beats for coffee and the beach
Waves, coffee, and good vibes only
Beach hair, don't care, just need caffeine
Sunsets, sea, coffee and me
Coffee first, surf second
Life, coffee, beach, and endless summer
More beach, more coffee.
Coffee, because it's too early for a beach cocktail
Sea you later, after coffee
Life happens, coffee and beach helps
Aloha beach, where's my coffee?
Life's a Beach, Enjoy the Waves
Sandy Toes, Sunkissed Nose
All you need is a good dose of vitamin sea
Beach more, worry less
B.E.A.C.H – Best Escape Anyone Can Have
Ocean child
Keep calm and beach on
Sun, Sea and Sand in My Hand
High tides, good vibes
Come sink into me and let me breath you in
Sunshine is the best medicine
Stay salty
Mermaid kisses and starfish wishes
Oh ship, it's a family trip
Find me under the palms
Shell yeah!
Saltwater heart
Good times and tan lines
Life is better in flip flops
Eat, beach, sleep, repeat
Life's a Beach
Sandy Toes, Sunkissed Nose
Just Add Water
Sip Back and Relax
Sea-ze the Day
Beach, Please
Ocean Spray, All Day
Vitamin Sea Lover
Sunset Sips
Mermaid at Heart
Salt Water Heals Everything
Shell Yeah!
Sun, Sand, and a Drink in my Hand
Making Waves
Designed for Beach Life
Salty But Sweet
Paradise Found
Sun-Kissed Hair, Don't Care
Beachy Keen
Seas the Moment
Good Vibes and High Tides
Tropic Like it's Hot
Let's Shell-ebrate
Stay Salty, My Friends
A Wave of Fun
Getting My Vitamin Sea
Drinks are Better at the Beach
Surf's Up, Bottoms Up
Salty and Lit
Living on Beach Time