Adorable Sayings to Engrave on Your Coasters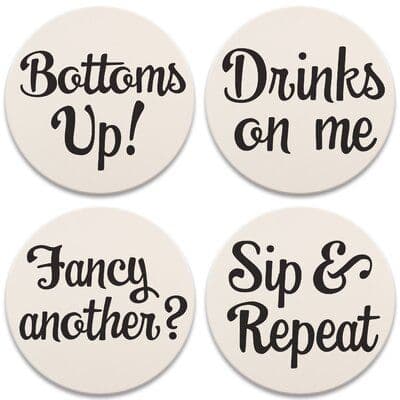 Keep calm, it's coaster time.
Life is too short for water marks.
Have a sip, not a drip!
Sip back and relax!
Where there's a drink, there's a coaster.
Don't be a coaster, coaster!
Keep your table happy, use a coaster.
Beauty lies in the coaster of the beholder.
Mugmate for life.
Ring free zone.
Save your table, show some coaster love.
Put me under your drink, not your feet!
Stay on a coaster, never on your nerves.
Mugs are for hugs, not slugs.
A coaster a day keeps the scratches away!
Drinks need homes too.
Warm hearts, cool coasters.
Cup's best friend.
Say goodbye to rings, hello to blings.
Charm the surface, embrace the coaster.
Be mugs best friend
Coaster here, party there
On coast(er) of good vibes
Spill the tea, not on the table
Catching drips, not feelin' tipsy
Don't be a drip!
Sip happens
Life's too short for water rings
It's coaster o 'clock somewhere
Keep calm and use a coaster
I'm here for a good time, and a long time
Protect the table, respect the coaster
Drip responsibly
Make every sip count
You're brew-tiful
Where there's wine, there's a coaster
Catch you on the coaster-side
Caution: coaster in use
Coaster vibes only
From hot coffee to cool coasters
Sip back and relax
Oh, look it's coaster o'clock!
Cup's best mate
Wine a little, laugh a latte
Saving tables one coaster at a time
Life's a coaster, enjoy the ride
Doing my duty: cup holder
Eat, drink, be merry, and use a coaster.
Rest your glass, enjoy the moment
Coaster love, mug life
Love the wine you're with – on a coaster
'Sip' back and relax
Coaster zone, party on
Mark your spot with a coaster
Coasters: the unsung heroes of the table.
Don't stain your reputation, use a coaster!
Absorbent and Accepting. Just like your secrets!
Be a little 'coaster, let's absorb life's spills together!
Friends don't let friends leave rings.
I'm just here for moral mug support.
Coasters: Because even your glass needs a hug.
Stained tables are a party foul!
I promise, I won't let you down!
Sweat marks are for the gym, not your table.
Here today, beer tomorrow.
Saving your table, one drink at a time.
Coasting through life.
Keep calm and use a coaster!
Your drink's better half.
I'd take a spill for you.
Protecting your table, one sip at a time.
Your furniture's new best friend.
Mugs and glasses welcome, stains and rings banned!
Lay it on me!
The coast(ers) is clear.
Sip happens, use a coaster!
You can always count on me!
Pour decisions lead to stains, use me instead!
Your cup's resting place.
From coffee to wine, I got you covered.
Warning: Non-Use may lead to unsightly stains!