Iconic Rodeo Quotes That Truly Describe the Popular Western Sport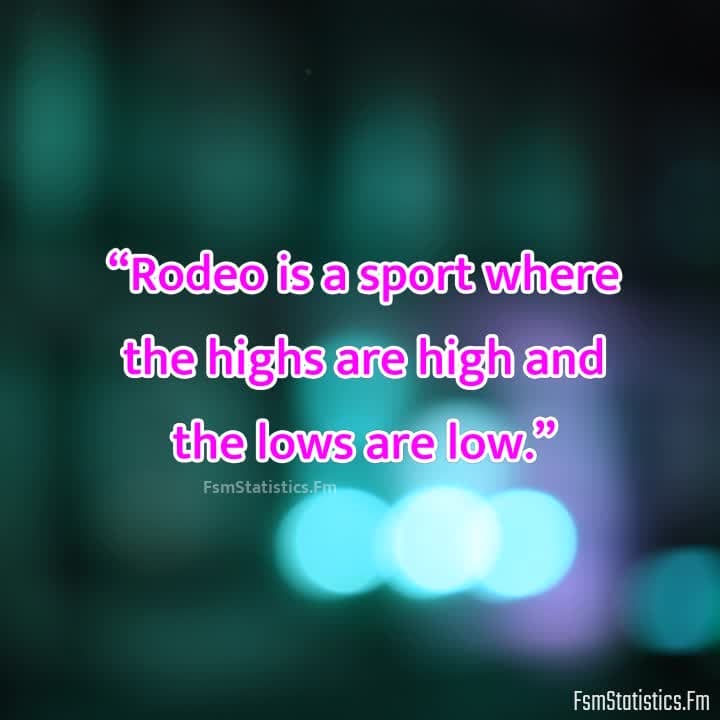 Buckle up and hold tight, it's rodeo time.
Only a cowboy would ride into the storm.
Every rodeo has a bull that can't be ridden and a cowboy who can't be thrown.
Life is tough, but it's tougher if you're not a cowboy at heart.
A cowboy never dies, he just rides off into the sunset.
Rodeo is not a hobby, it's a way of life.
The most important part of the rodeo is the dirt.
The ride may be wild, but a cowboy keeps riding.
Rodeo: it's more than a sport, it's a way of life.
Keep calm and cowboy on.
Hold on tight, it's going to be a bumpy ride.
In the arena of life, it's all about the ride.
Bravery is holding on a minute longer.
Dust yourself off, cowboy up, and ride again.
In rodeo, moments of victory are worth a lifetime of pain.
The cowboy spirit is never broken.
When you're in the saddle, you're in heaven.
In rodeo, you have to saddle your own bronc.
Ride hard, or stay home.
With true grit and a little bit of dust, a cowboy can conquer anything.
Buckle up, it's rodeo time.
Dream as if you'll live forever, live as if you'll ride for eight seconds.
Can't never did anything, especially in the rodeo.
Life might not be a party, but a rodeo always is.
In a world full of princesses, dare to be a cowgirl.
Cowboy is not a profession – it's a survival skill.
You don't have to ride a bull to be a cowboy, but you damn sure gotta love rodeo.
The eight seconds that last a lifetime.
Riding bulls and punching clowns – that's how I live.
The rodeo doesn't wait for anyone, so why should you?
Bulls, barrels, boots and spurs – welcome to my world of excitement.
No hour of life is wasted when it's spent in the rodeo.
If you haven't fallen off a horse…then you haven't been ridin' long enough.
Dust off and cowboy up; it's rodeo time!
Life is a rodeo – all you have to do is stay in the saddle.
Rodeo: the original extreme sport.
You don?t need to win every rodeo, but you sure need to ride every bull.
I go where my cowboy boots tell me to, and it ends up at the rodeo every time.
This ain't my first rodeo, and it won't be my last.
Bones heal, pain is temporary and pride is forever. That's why we rodeo.
Give a cowboy a horse he can ride, and a rodeo he can enjoy.
Living life behind bars…8 seconds at a time.
Rodeo is the only sport with unemployment built into it. You can't win if you don't ride.
In rodeo, it's not about how long you hang on, but how well you let go.
Ride it like you stole it.
Life is like a rodeo – it's all how you handle the ride.
In this rodeo called life, I'm gonna saddle up and ride.
When you fall off your horse, get back on and ride even harder.
Rodeo was the first extreme sport.
Dust is just a cowboy's glitter.
Rodeo life might not be easy, but it sure is worth every rodeo.
There's a little bit of rodeo in every cowboy's dream.
Rodeo is a passion, not a pastime.
Rodeo- where the weak are killed and eaten.
The rodeo isn't over when you get bucked off. It's over when you quit.
Every rodeo tells a story. What's yours?
They call it rodeo because the good times weren't taken.
When a cowboy steps into a rodeo, he's stepping into his destiny.
The style is the ride, the ride is the rodeo.
There's no perfume like the smell of rodeo dust.
Live life like a 8-second ride.
Rodeo: A dance between a man and an 1800lb beast.