Humorous and Catchy Tip Jar Sayings to Brighten Your Day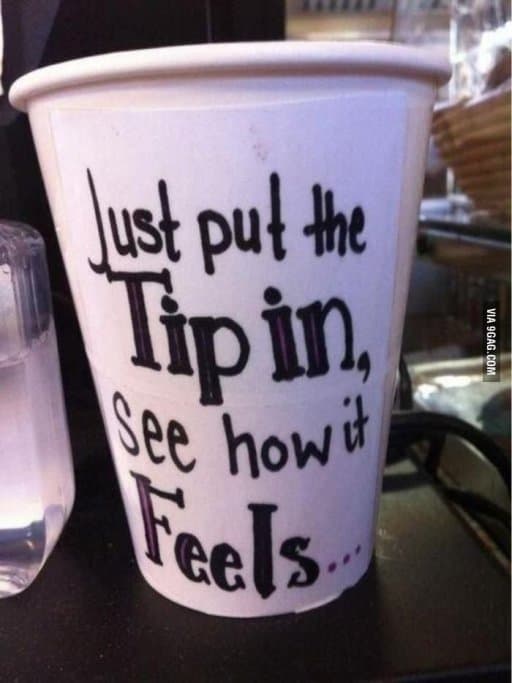 Fear change? Leave it here!
Don't be a loafer, donate your dough
Keep the tip, take a waiter
Help us get through college, one quarter at a time
Cash diet? Put your calories here
Giving in makes cents
Because tattooing and piercing our own bodies is not enough!
Tipping is not just for cows
Change is good, especially in my jar
Tip us or we'll start singing
Think of it as a game, you aim to please
We accept tips, compliments and lottery tickets
We don't believe in tip jars. We believe in tip mountains!
Prevent coin loneliness. Leave them here!
Tip me baby one more time
Tips appreciated, high fives accepted
Money can't buy happiness, but it can fill my tip jar
Coin a phrase into our jar
Do you believe in tipping magic?
Help! The coins are trapped in jar prison!
Change is good?especially in my jar!
Fear change, except in this jar.
Feeling tipsy? Let your change fall in here!
Because at least our jar doesn't say 'Insert Coin'!
Tips accepted in bills, coins, and compliments.
Tip your waiter, not your cows.
Give us your two cents
Make our jar jingle!
It makes cents to tip!
Spotted: a lonely pocket change, looking for a home.
Coins need love, too!
We accept tips, but we prefer treasures.
Help us get ahead ? one cent at a time.
Breaking news: Local jar saves lost change.
Empty your pockets, lighten your load.
Feeding the tip jar: instant karma boost.
Got change? We'll take it off your hands.
Pro-tip: leave a tip!
Tip or Treat!
We promise not to spend it all on candy.
Your tip is our next lottery ticket.
Make our day ? add to our tip array.
You can tip now, or you can tip later.
Help fuel our coffee addiction.
Poof! And your change is gone? into our jar!
Coins make me smile, bills make me laugh!
A small tip for a big smile.
Change is good, especially in my jar.
Making cents out of your change
Donate to the 'Help ME Retire Early' fund.
Folding money accepted here.
Don't be a penny pincher. Be a tip jar filler!
Quench my thirst with your change.
Coin-fed staff.
Cash diet, feed me.
Remember, every penny counts!
Jar for jokes, tips for smiles.
Your couch change is my salary.
Unwanted change rescued here.
Do you believe in Tip Jar Magic?
Cash'n smile service
Keep the change, change my day.
Saving for my next coffee (at my break).
Fed by compliments, maintained by tips.
Lincoln wants company!
You tip, I strip…the table.
Even big souls like small bills.
No Cash? Cheques, Gold, Diamonds accepted!
This is my piggy bank. Please feed it.
Coins welcome, bills cherished.