Homesick Quotes: Sayings to Soothe Your Longing for Home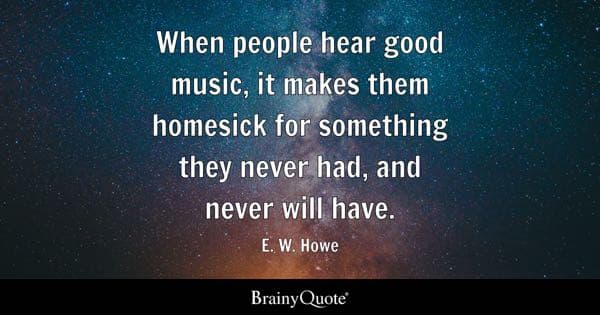 The ache for home lives in all of us, the safe place where we can go as we are and not be questioned. ? Maya Angelou
Wherever you go, you always leave your heart at home. ? Unknown
Homesickness is the distress caused by being away from home. ? Susan J. Matt
You can never go home again, but the truth is you can never leave home, so it's all right. ? Maya Angelou
Home is not where you live but where they understand you. ? Christian Morgenstern
There's no place like home. And I do miss my home. ? Malala Yousafzai
Homesick is just a state of mind for me. I'm always missing someone or someplace or something, I'm always trying to get back to some imaginary somewhere. – Rob Sheffield
Home is the nicest word there is. ? Laura Ingalls Wilder
There is no real way to deal with everything we lose. ? Joan Didion
The biggest curse in life is not loosing your love, but not being loved by someone you love. ? Kiran Joshi
Homesickness is nothing more than a longing for family traditions. ? Laura Ingalls Wilder
Home is a place you grow up wanting to leave, and grow old wanting to get back to. ? John Ed Pearce
No one realizes how beautiful it is to travel until he comes home and rests his head on his old, familiar pillow. ? Lin Yutang
You can travel the world, but you can't run away from the person you are in your heart. – Unknown
Home isn't a place, it's a feeling. – Cecelia Ahern
The magic thing about home is that it feels good to leave, and it feels even better to come back. – Wendy Wunder
Home is where one starts from.? – T.S. Eliot
No matter where we are, home is the place we long to be. – Unknown
Every traveler has a home of his own, and he learns to appreciate it the more from his wandering. – Charles Dickens
Missing home is a feeling that binds us all, brings us together instead of setting us apart. – Unknown
Wherever I am, there's always a piece of home tugging at my heartstrings.
Homesickness is just a state of mind. Always remember, home is where you make it.
I can travel the globe, but nowhere will be close enough to home.
Home is not a place… it's a feeling.
Sometimes, the only remedy to homesickness is a taste of home.
No matter how far I travel, I carry the essence of my home within me.
Homesickness is nothing. Fifty percent of the people in the world are homesick all the time. – John Cheever
Home is where love resides, memories are created, friends always belong, and laughter never ends.
Homesickness is a universal emotion. It's the price we pay for love.
Between homesickness and home, there?s a journey worth traveling.
The magic thing about home is that it feels good to leave, and it feels even better to come back.
Every traveler has a home of his own, and he learns to appreciate it the more from his wandering. – Charles Dickens
Home is the comfort of a warm light in the window.
Homesickness is just your heart?s way of reminding you that love resides at home.
Home is where the heart can laugh without shyness.
Sometimes, when one is moving silently through such an utterly desolate landscape, homesickness comes as an inexplicable fantasy of a far-off bank holiday crowd.
Every day's a perfect gift of time for us to use. Hours waiting to be filled in any way we choose. Each morning brings a quiet hope that rises with the sun.
Home is where the heart's tears can dry at their own pace.
Home isn't where you're from, it's where you find light when all grows dark. – Pierce Brown
From the backs of my eyes, I can almost see the beautiful skyline that once filled me with so much hope.
Homesick is not a place, it's a feeling.
Home is not where you are from, it is where you belong.
Homesickness is the distress caused by being away from home.
The sun does not shine as bright when you are not in your homeland.
No matter how far you travel, you can never forget your roots.
Homesickness – the uninvited guest that enters our hearts when we are far from what we know as home.
You can travel the whole world but you will never find the warmth of home.
Home, the spot of earth supremely blest, a dearer, sweeter spot than all the rest.
Sometimes, no matter how exciting the trip, you just want to be home.
Cure sometimes, treat often, comfort always. But home, always home.
Can miles truly separate you from home? Only if home is limited to a geographical location.
You can always find home in your mother's arms.
Homesick is a longing for home and family in their absence.
Home is a feeling, not a place.
Never make fun of people who are homesick. It?s a terrible feeling, being homesick.
The ache for home lives in all of us. The safe place where we can go as we are and not be questioned.
The thrill of coming home has never changed.
When you?re homesick, you?re not missing home, you?re missing the past.
Every traveler has a home of his own, and he learns to appreciate it the more from his wandering.
Home is where we should feel secure and comfortable.