Comical Phrases and Quips to Adorn Your Face Masks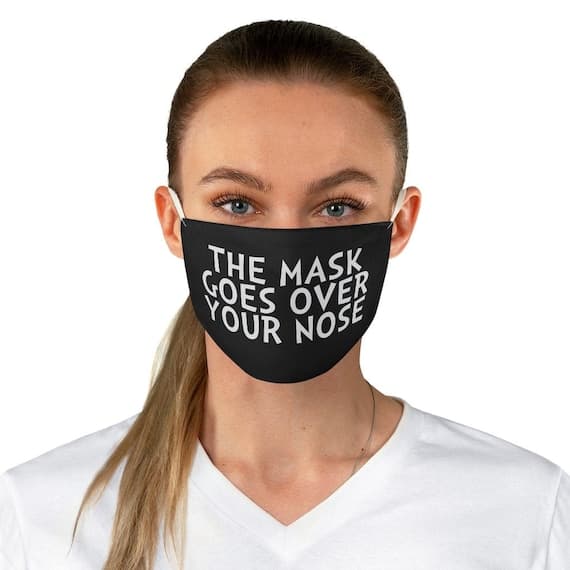 Covering up in style!
Smiling underneath, swear!
Yes, it?s designer… Crushing COVID fashionably.
I smile, You guess!
Silencing sneezes since
Cough-blocker!
My mask protects, my style slays.
Who needs lipstick?
Frown underneath? You'll never know!
In mask, we trust.
Healthy but trendy.
Cutting the curve, one mask at a time.
Crushing germs, one mask at a time.
Stay away, I'm allergic to stupidity.
Socially distanced but fashionably present.
Sanitized and glamorized!
Built-in face warmer.
Locked lips, stylish sips.
Masking highs, hiding lows.
Filter game strong!
Wear to care.
Mystery behind the mask.
It's more than just a mask.
6ft apart but close at heart.
Turning silence into a style statement.
Catch flights, not virus.
I was social distancing before it was cool.
Lower half still on point.
Not all heroes wear capes, some wear masks.
Secretly a superhero.
Masked but not muted.
If you can read this, you're too close!
I'm smiling underneath, promise.
If you can read this, you're too close!
Mask it or casket!
Spread love, not germs.
Save lives, wear a mask.
If not for you, do it for grandma.
Behind the mask, beats a caring heart.
This is the cheekiest you'll see me in public.
It's a smile, put on a wild guess!
It's a pandemic not a fashion show, but I'm killing both.
Proud member of the masked bandits.
I'm wearing the best curve; it's called safety!
Caution: cloth face only.
Staying safe but make it fashion.
No, It's not a designer mask, I'm just clever.
At this point, my mask is my smile.
Sorry, no face autographs today.?
?Masked and fabulous.?
?Why so serious? It?s just a mask!?
My daily makeup – Maskara!
Smiling on the Inside.
If You Can Read This, You're Too Close!
I'm Not Sick, I'm Just a Little Unwell.
Face ID Not Recognized.
Silence, the Virus is Listening.
Incognito Mode Activated.
Social Distancing Champ.
Breathe in, Breathe Out.
I'd Smile But You Can't See It.
My Other Mask is Your Mama's Panties.
I Gave My Last Toilet Roll for This.
Warning: Does Not Contain Filter.
If This Mask is Out, I'm in My Happy Hour.
Flatten the Curve, Not my Spirits.
I'm Sexy Under This, I Swear.
I'm Only as Sick as My Secrets.
This is My Quarantine Uniform.
Cover Your Measles, Not Your Ideas.
Virus-Free Zone.
Behind Every Mask There is a Face, and Behind That, a Story.
Inhale Courage, Exhale Fear.
Don't Stand so Close to Me.
Covid Couture.
Masked but Not Silenced.
Can't Touch This!