Cancer Awareness Slogans for Customized T-shirts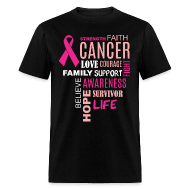 Cancer Made me a Fighter
I Can-Cer Vive
No One Fights Alone
Cancer Touches Us All
Kicking Cancer's Ass
Stronger than Cancer
Cancer Can?t Silence Courage
Fear is a Reaction, Courage is a Decision
Stand Up to Cancer
Cancer is Only Going to be a Chapter in My Life
Warrior Not Worrier
Stomp Out Cancer
Cancer Doesn't Stand a Chance
Hope, Love, Cure
I Wear [Color] For Cancer Awareness
I'm Still Here, Cancer
Cancer Picked the Wrong Diva
Chemo? No Problem!
Fought Like a Girl and Won
I Told Cancer to Buzz Off
Too Tough for Cancer
Cancer?s Tough, but I'm Tougher
Bald, Beautiful, & Beating Cancer
Just Watch Me Beat This
Courage, Above All Things, is the First Quality of a Warrior
Cancer Can Kiss My Butt
I'm Crushing Cancer
Cancer is Cruel, not Me
Beating Cancer One Day at a Time
Cancer, You Picked the Wrong Chick/Dude
Cancer Tried, But I'm Still Fighting.
I Wear It for the Battle.
Cancer Can't Break Me.
Cancer Warrior:
Cancer Survivor: The Strongest People You'll Ever Meet.
Cancer Met Its Match.
No Hair, Don't Care. Fierce Cancer Fighter.
Cancer, You Picked the Wrong Diva.
Cancer Can Kiss This!
I'm Kicking Cancer, One Cell at a Time!
Cancer Touched My Boob. So I Kicked Its Butt!
Even On My Hardest Day, I'm Killing It.
Try It, Cancer. I Dare You.
Bald, Beautiful, and Beating Cancer.
Cancer Isn't a Death Sentence. It's a Life Reminder.
Cancer's Tough, But I'm Tougher.
From Chemo to Champion.
Cancer: Been There, Beat That!
Cancer Fighter – No Retreat, No Surrender.
Shine On, Cancer Survivor.
Courage is My Only Option.
Cancer Picked a Fight with the Wrong Chick.
Cancer Picked the Wrong One
I'm in Remission. Cancer isn't.
Cancer Doesn't Stand a Chance
Straight Outta Chemo
Chemo Hair Don't Care
I Can-cer-vive
Destroy What Destroys You
Cancer Survivor: Tougher than Nails
Don't Count the Days, Make the Days Count
Cancer? Been There, Beat That
I Wear Pink for the Ones I Love
Cancer Isn?t a Death Sentence. It?s Just One Word in My Life
Cancer Thinks It's Picked a Fight
Kickin' Cancer's Butt, One Day at a Time
Not Today, Cancer
Cancer Touched my Breast, So I Kicked its Butt
Cancer is Just Another Hurdle. Watch Me Jump
Undergoing Cancer Treatment, Smashing Expectations
Fighting Cancer with Attitude and Style
My Best Friends are Chemotherapy and Radiation
I Laugh in the Face of Cancer
Cancer Warrior. Survivor. Thriver.
Surviving Cancer: Nailing It Every Day.
Who Needs Hair With a Body This Fab?
Cancer May Have Started the Fight, But I Will Finish It!