Boss Queen Quotes to Inspire and Empower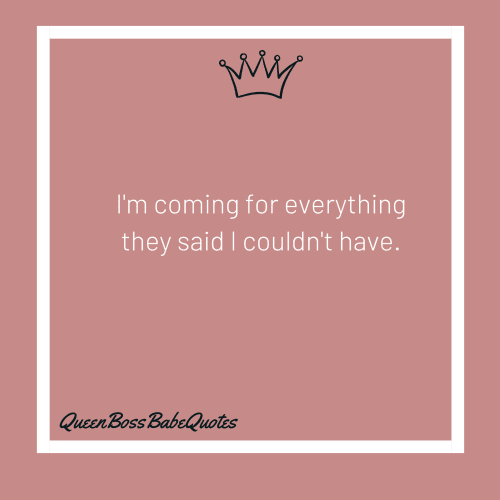 I'm not bossy, I am the boss.
I am a queen crowned in my curls.
The boss lady doesn't hope for success, she works for it.
A queen will always turn pain into power.
I didn?t come this far to only come this far. I am the boss queen.
Queens don't compete with hoes.
When life gives you lemons, put them in your sweet tea and thank God you're a southern queen.
I don?t follow rules and they don?t like that.
May your coffee be strong and your Monday be short.
Regal and royal, sitting pretty on my throne, I'm the boss queen.
When I dare to be powerful ? to use my strength in the service of my vision, then it becomes less and less important whether I am afraid.
Sorry, I can't hear you over the sound of my own awesomeness.
I hustle until my haters ask if I'm hiring.
The only drama that I enjoy is in my lashes.
Better to be strong than pretty and useless.
Queens are born in every month, and I'm the boss of them all.
The queen is the most powerful piece in the game.
I'm not a princess, I don't need saving. I'm a queen, I got this handled.
What's a queen without her king? Well, historically speaking, more powerful.
Being feminine in the way I dress doesn?t mean I?m less ambitious.
Bra off, hair up, belly out. Queen mode activated!
My crown isn?t invisible. I?m going to make you see it, feel it, and remember it.
You were born an original don?t die a copy.
I may be a queen, but don?t forget who reigns.
I'm a queen with or without a king.
Be the boss everyone expects to see in their dreams.
A Boss Queen never backs down, she wears her crown with pride.
Handle your business without people knowing your business.
Greatness is not a destination, it's who a boss queen becomes.
Behind every successful woman is herself, making it happen every day.
Boss up and change your life.
I didn't come this far to only come this far. I am a Boss Queen.
Elegance is when the inside is as beautiful as outside.
Don't adapt to the energy in the room, influence it.
A Goal Digger & Boss Lady always sees the invisible, feels the intangible, and achieves the impossible.
The woman who does not require validation from anyone is the most feared individual on the planet.
A boss queen knows her worth, commands respect and never settles for less.
I don't dress up for anyone but me.
Women who lead are women who read.
As a boss queen, the greatest thing you can do is empower others.
There is no limit to what a woman can accomplish. Especially when you are the Boss.
Queendom isn't about being superior. It's about ruling with love, wisdom, and strength.
The question isn?t who?s going to let me; it?s, who?s going to stop me?
She remembered who she was, and the game changed.
If your dreams don't scare you, they aren't big enough.
I didn't come this far to only come this far.
Dress like a boss, act like a boss, because I am the boss.
My crown is not invisible. I am going to make you see it, feel it and remember it.
I am strong, I am fearless, I am wise, I am a queen.
My throne was not given to me. I fought for it.
The only time a queen bows is to fix her crown.
I aspire to be an empowered woman with vision and grace. Soft-hearted but strong, self-aware and sure, respected for my mind, admired for my heart.
A queen knows how to build her empire with the same stones that were thrown at her.
I'm a queen crowned in my curls.
A queen doesn't have to prove she is a threat.
I am a queen because I know how to govern myself.
She has been through hell. So believe me when I say, fear her when she looks into a fire and smiles.
Queens don't compete with hoes.
You can break down a queen temporarily but a true queen will always pick up the pieces, rebuild and come back stronger.
Queens don't worry about petty drama, we are too busy being fabulous.
A true queen doesn't stand on shaking ground.
Be a queen when you think, be a queen when you decide, no one has the power to defeat the tremendous power of a queen's mind.
The most dangerous woman of all is the one who refuses to rely on your sword to save her because she carries her own.
A queen will always turn pain into power.